Granite & Quartz Countertops in Central Florida
Kitchen and bathroom countertops in Orlando area
Our friendly team excels in creating stunning granite, quartz, and marble surfaces, perfect for adding charm to your kitchen and bathroom. We're here to guide you through every step, ensuring a delightful and hassle-free experience from design to installation.
Quality Marble, Quartz & Granite Countertops in Orlando, FL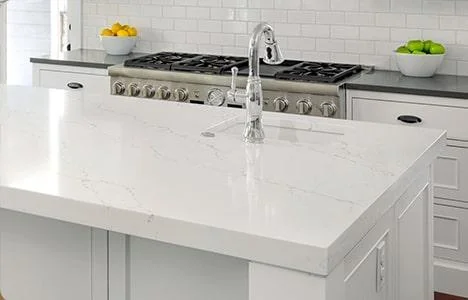 Quartz is a durable material that will look gorgeous in any kitchen. Having a wide range of colors and textures to choose from, quartz will satisfy any preferences. Since unlike granite or marble, quartz is an engineered product, it has greater durability and variety in color and texture.
Quartz is also a non-porous material, which prevents stains of any sort and bacteria growth on the countertop. It also has a harder surface, making it nearly impossible to scratch. Gorgeous colors and decade's worth of guaranteed quality make quartz countertops a great investment.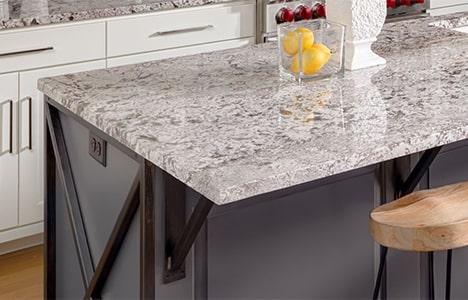 Granite is a beautiful material that brings elegancy and style into any kitchen or bathroom. Countertops fit perfectly into any design or style with the wide variety of colors and patterns. Not only beautiful, but also durable and heat resistant, it's a quality material that will serve you for years.
It has to be noted, however, that if the granite is not sealed properly and is not taken care of, staining will occur. The sheer beauty and durability of the material make up for the cost.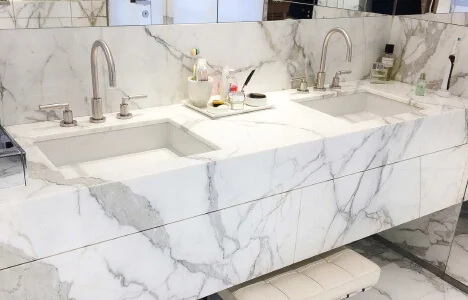 Marble is a luxurious material that has been popular throughout the ages. Used by great sculptors such as Michelangelo to create masterpieces, marble is sure to transform any interior into a work of art. With its variety in color and a unique veining pattern to it, marble is one of the most beautiful materials used to create countertops.
Our marble countertops are sealed perfectly to protect it from stains and exposure to bacterial growth. Your marble countertop will serve you beautifully for decades, transforming your bathroom or any other space into the masterpiece that you want it to be.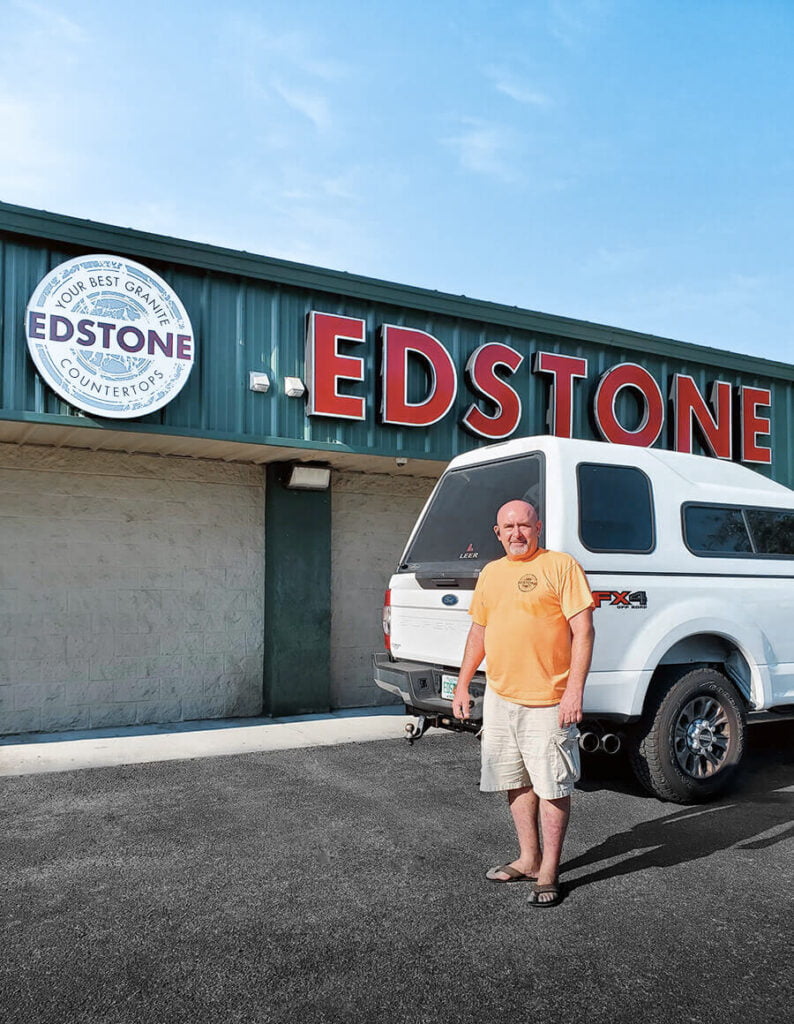 Hello from Edstone Inc. As the owner, I'm excited to be involved in creating your dream kitchen and bathroom spaces. From precise measuring to expert manufacturing and installation, I'm here to ensure your granite countertops, marble or onyx vanity tops, bathtubs, and more are perfect in every way.
With our exceptional stone products and attention to detail, we're proud to bring decades of experience and a commitment to customer happiness directly to you. Let's create something beautiful together! Please let me know what ideas you have in mind.
We believe in transparency, professionalism, and exceptional craftsmanship, which is why we've outlined our step-by-step process so you know exactly what to expect when partnering with us.
We'll call you back in a few minutes and answer all your questions. Free of charge. No obligation.
By appointment, we will come to your home, show samples, measure the dimensions and calculate the final cost.
We will set everything up, arrive at a time convenient to you, and install the countertops.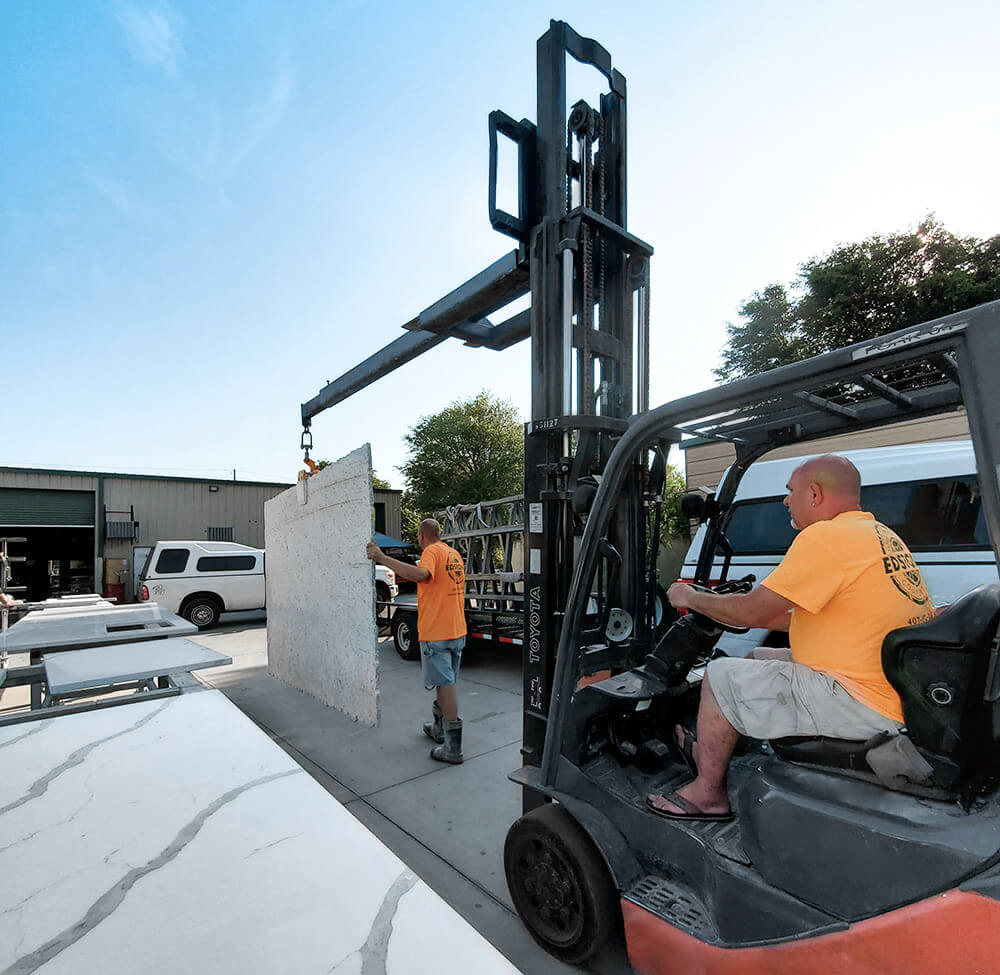 Our dedicated team takes pride in delivering outstanding craftsmanship, customer service, and attention to detail, making us the ultimate choice for your custom kitchen, bar, and bathroom design projects.
Proven Quality

15 years in the granite business. We use only premium natural stone countertops that are source from the most reputable distributors.

Installers

Notice that our experienced team of professionals is a cut above the rest. We provide reliable, efficient and courteous services.

Wide Selection

We carry 700+ slabs in stock. Moreover, we offer new options for customers to grow our stock regularly to keep up with the latest trends and styles.
Dive into our gallery of completed projects and let the beauty speak for itself. Here at Edstone Inc., we pride ourselves on transforming homes with our exquisite granite, marble, and quartz creations.
From chic kitchen countertops to elegant bar tops and fireplace surrounds, each piece is a testament to our dedication to style and precision. These images showcase how we turn everyday spaces into extraordinary showcases of craftsmanship and design. Enjoy browsing through our work and imagine the possibilities for your own home.
You'll find our services and products are affordable and our customer service is excellent.
Don't miss out on expert tips, industry knowledge, and captivating stories that will enrich your experience with us.